Hello me lovelies! How are you all this miserable friday? I don't know what the weather is like everywhere else but it's been chucking it down all day in Manchester. If you follow me on twitter you may have read my big moan about the horrid rain and my stupid hayfever that won't go away :(
Anyway enough of the moaning! My lips are always pretty dry and cracked throughout the year but recently this little combo has been making my lips pretty smooth. It's nothing special, two products everyone can get their hands on, but it's made the world of difference.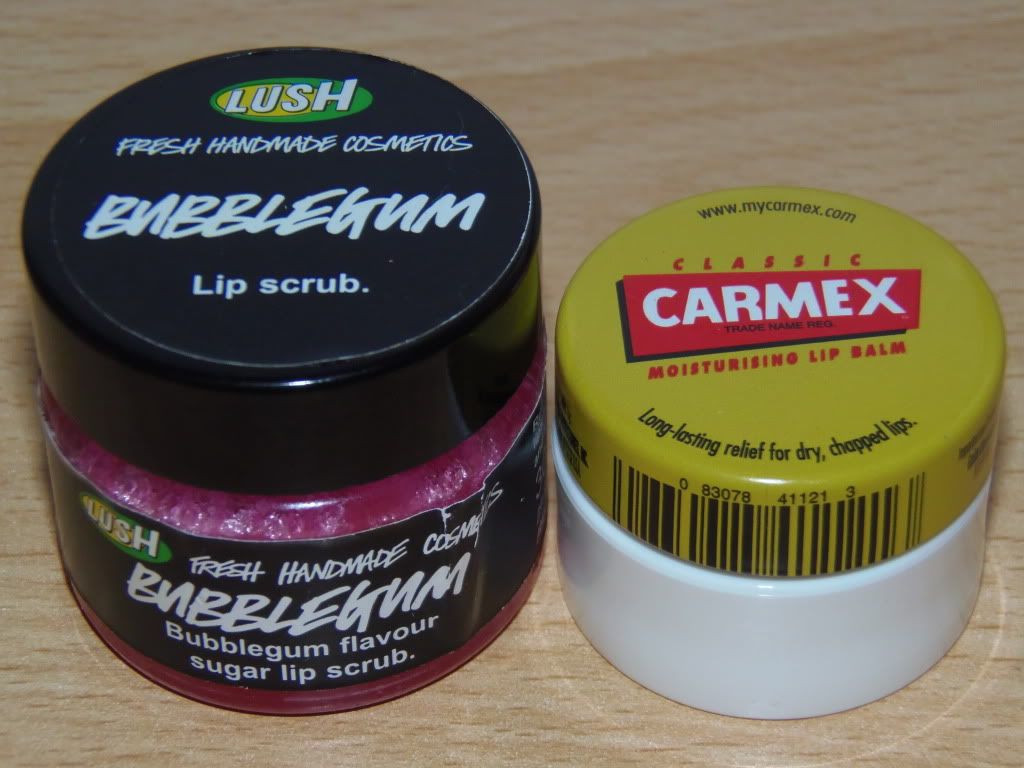 First up, i use the 'Bubblegum' lip scrub from Lush for £4.95. This is basically a lip exfoliator that tastes really yummy too (i end up eating more of this than i use). I basically put a little bit on my finger and rub in little circular motions on my lips 2 or 3 times - give them a proper good scrub! I do this about 3 times a week to get rid of any dry skin building up.
If you can't get hold of this or think it's too pricey for what it is then you can make one yourself.
Just mix 2 tablespoons of sugar with 1 1/2 tablespoons of olive oil.
Taadah! Saves you a fiver doesn't it. I know i'll be doing this next.
I then slap on lots of Carmex.
Carmex is my favourite lip balm it really does keep my lips hydrated for a long time. I tried to use the Blistex Relief Cream but that just didn't work out. I have returned to my beloved Carmex and my lips have been loving it! I prefer the tub version of these lip balms they just seem to work better for some reason and last so long! The cherry one smells delicious too.
See i told you this was simple. The combination of these mean i have perfect soft lips. I tend to do this before bed at night and really let my lips take in all the Carmex and it works so well. I also use the Carmex daily to keep my lips moisturised constantly.
What are your favourite lip treats?