Hello, i have
another
makeup look for you today. I'm gonna keep posting these every monday let me know what you all think and if people like it i will keep going if not, well i won't..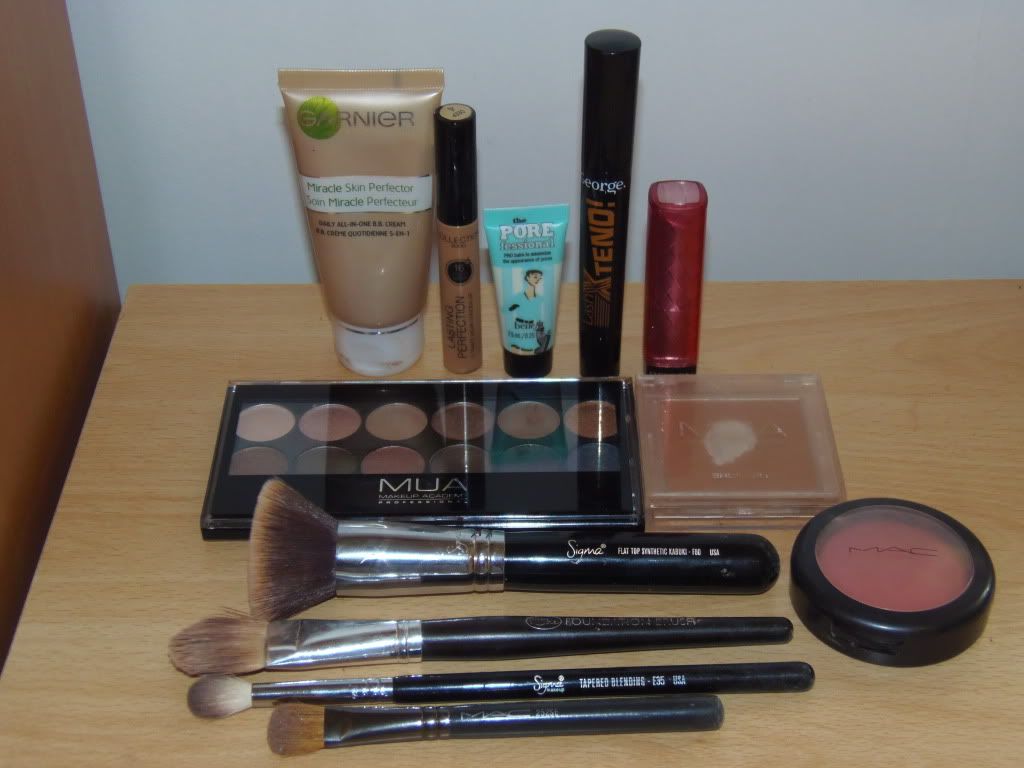 So above are all the products i used (apart from my setting powder - forgot that oops) so keep reading to see what look i created. I literally received my MUA palette mid-makeup and obviously had to put it into use ;)
Base - Benefit Porefessional on nose, chin and centre of forehead. Garnier BB Cream applied all over. Collection 2000 lasting perfection concealer under eyes , around nose. MUA bronzer as contour in hollow of cheekbones. MAC Fleur Power blush on apples of cheeks. All set with MAC Blot Powder and MAC Mineralise Skinfinish Natural.
Eyes - MUA 'Undressed' palette - Shade 1 (eyelid and highlight), Shades 10/11 (crease and lower lashline) and Shade 12 (eyeliner). George Asda 'Lash Xtend' Mascara.
Lips - Revlon lip butter 'Berry Smoothie'.
Eeee, anyway i hope you like look. I quite like it myself actually, it doesn't feel heavy on the skin atall but looks smart and it doesn't take that long to do. I reviewed the Garnier BB cream (
here
) and to put it bluntly - hated it. But the Porefessional helps it last that little bit longer and set with powder it lasts long enough so i'm enjoying using it up. I also reviewed/swatched the 'Undressed' palette
here
if you fancy a more in depth look at it!
Bye for now..