I have another fashion post for you today (getting good at these aren't i), this time it's something a little different! Today is all about one specific item... The Next Supporters Scarf!
In the words of Next:
"
The scarves have been designed by Next as part of their support for London 2012 and are the must have item of the summer! (All profits from the sale of the scarves will be donated to the British Olympic Association - helping British Olympic and Paralympic athletes deliver
their best performance at London 2012 and beyond.)"
I think this is such a great way of supporting our nation in the Olympics. Not only does it look good, everyone can get one and the money is going to good a cause too - what more could you ask for?
There are two scarves - a 'Team GB' scarf and a 'Paralympic GB Team' scarf both available in large or small - al
ong with a selection of other things available here.
I have the Paralympic scarf and this is how i wore it...
Scarf - Next*
Blazer - Primark
Top - Topshop
Jeans - Topshop
I really do love this look and i will be rocking it when i come down to London just before the olympics in July with a slick of red lippy - nothing wrong with getting into the the Team GB Spirit! ;)
Don't you just love it? It's so wearable and i think it looks great with the maroon jeans (sticking with the red, white and blue theme) but, it also kept me very warm! Winter must have, maybe. There are soo many ways of using/wearing this scarf e.g. blanket, flag/banner, headband, top, sarong, cover up! So many ways, it's really up to you, can you think of any more?
I know i've already had it wrapped round my head and tied it round my bag too.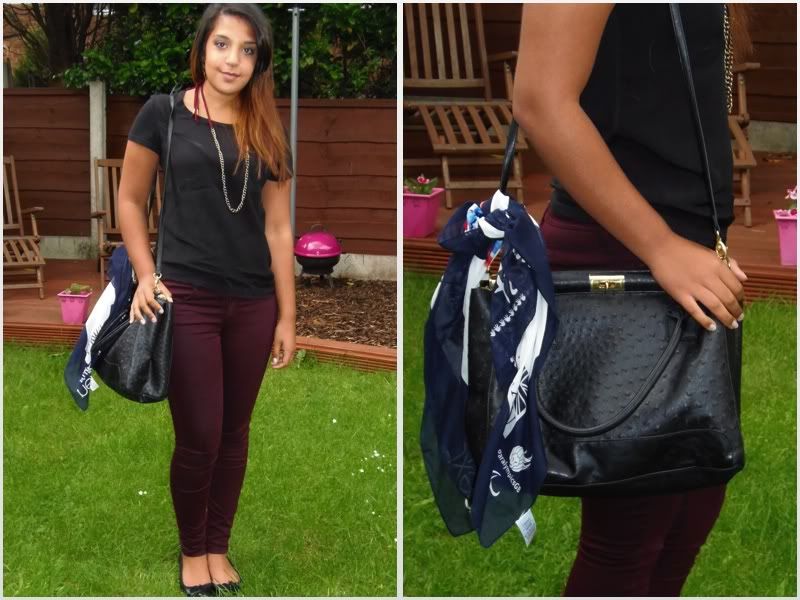 Anyway what do you think of this scarf? Will you be purchasing your self one? I can't wait to wear it with more things!
Oh, so if you'd like to join in the 'Wear it, Wave it & Win' campaign then click on this link here to find out all about it :)