Hey all! So i asked on Twitter if you'd like to see what i got for my birthday (which was yesterday if you're wondering) or what i got from london. The response was birthday haul so here it is!
I had a bit of a dilemma this year - i had no idea what i wanted present wise (normally, i have a list as long as my arm) But this year, there were only two things i wanted: Rio Sonicleanse and Burt's Bees Grab Bag but, sadly the grab bags are no longer available :(
Anyway, on to what i got from my family & boyfriend..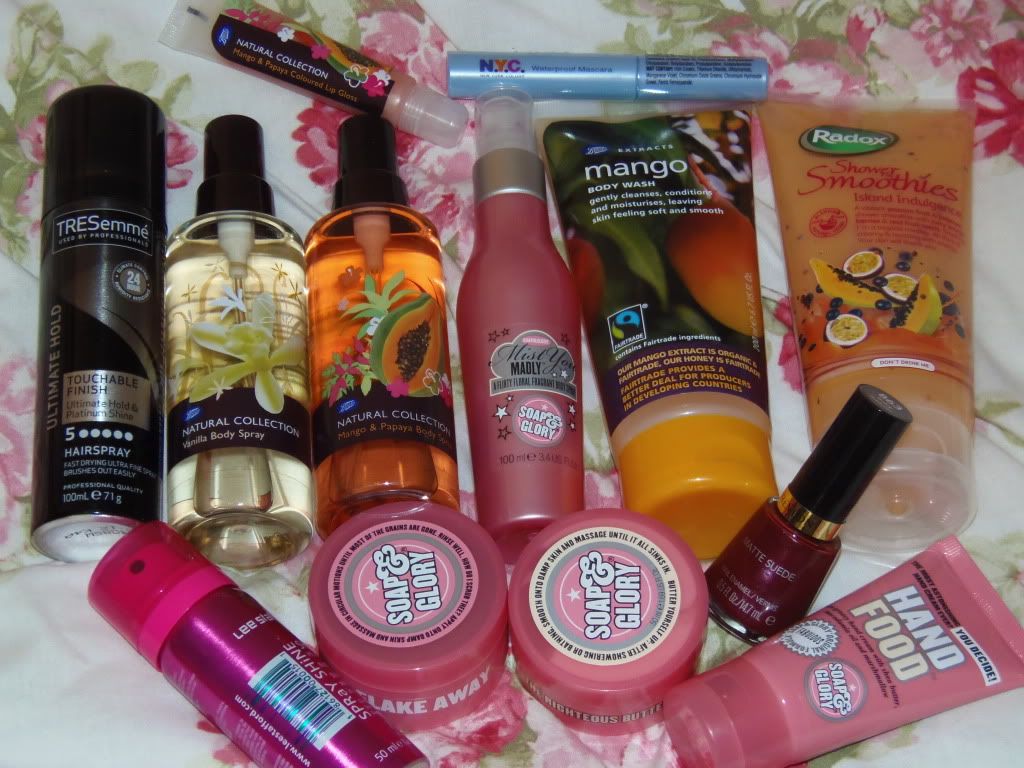 My Mum and Dad decided to go a little mad in Boots and get me a goody bag full of stuff. My mum said 'there you go, here's a haul for your blog'. I can't wait to use everything, might take me a while though. They know me so well: hand cream, hairspray & mango - perrrrrfect.
The Skin Wisdom stuff is from my boyfriends parents - i got a body lotion which is rose scented (yay) and a body oil which i can't wait to try. And i finally have my hands on some Burt's Bees products - finally - thanks to my parents! And a little manicure set for in my bag for any nail emergencies.
My mum & dad also got me the Rio Sonicleanse which is a more affordable version of a Clarisonic and well worth it in my opinion. I've already used it and like it already. Can't wait to review it for you in the future. I also got the new Katie Price novel off my Nanna - don't judge me but i
love
them!!
Last but not least are the presents from my boyfriend. He bought me the Nars 'Casino' bronzer when we was in London as so many people recommended it! And he also demanded to pay for the Laura Mericer Mineral Powder Foundation too. Both products i am LOVING and so glad i got! He also surprised me to Topshop Vectra's which i forgot to get in London. I'm so happy with these, they're super comfy and look amazing!
Anyhow, that's everything i got present wise - everything i wanted and more! I got bits of money too go shopping (which i did today) and get anything else i was lusting after. Safe to say after my birthday and London i don't need to go shopping for a while!
Is there anything you're lusting after recently? Whats on your wishlist?
p.s. The London haul is on it's way tomorrow!