So, considering i went to London for 3 days you probably think i bought loads, right? Wrong. I didn't buy masses of stuff i didn't need. On our main shopping day where we had a wonder all the way down Oxford Street, my boyfriend did the most shopping - he loved it! Whereas i didn't see
too
much that i liked and didn't see the point in spending all my money on rubbish i didn't really want or need.
I'd really wanted a leather jacket for absolutely ages so i knew that was definitely on my 'to by list'. Also on my list was the Real Techniques Core Collection, 17 Miracle Matte Primer and Body Shop Hand Cream. All of which made it's way to my basket! But, here is what i got...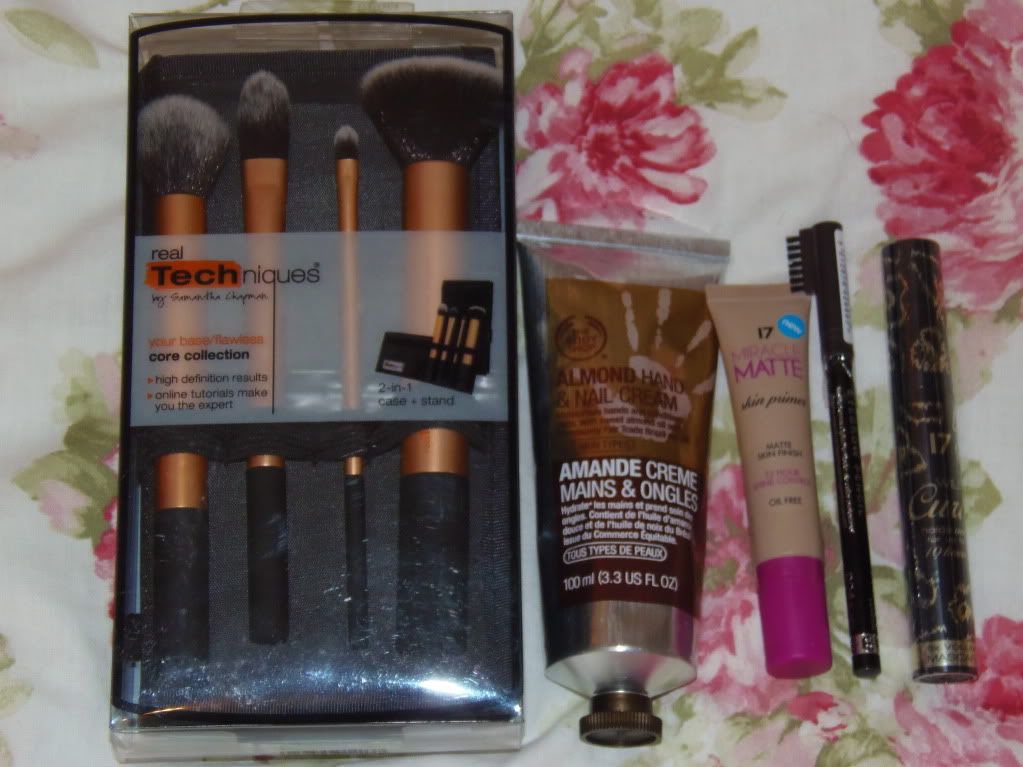 Here are my beauty purchases (not much i'm impressed). I've already been loving the Real Techniques brushes and 17 primer with my Laura Mercier Mineral Powder and Nars bronzer (which you can see
here
).
Here are the jewellery purchases. The collar is from H&M - i can't take it off! Nor can i take off the silver bangle from Monki, it was a mere £3 and it slides on the wrist to look like two thin metal bangles! The other bits are from Camden Markets.
Now here are two purchases from my favourite shops in London, it was the first time i've been to either or these shops and i
loved
them! The lace peplum top was another Monki item, £8 in the sale which i thought was amazing as it looks great on a night out or in the day with a black vest top underneath. The grey top is from Bershka - another £8 sale item! I love the studs on the shoulders.
The playsuit is from New Look (another sale item). I was surprised this playsuit suited me as they normally don't but this looks great and i can imagine me wearing it a lot - day, night, holiday!! Jeans - boring huh? These are from New Look, similar to ones i liked from Topshop but with a cheaper price tag so i couldn't resist. I also couldn't resist these floral pants from Zara again, pants don't normally suit me (i'm more of a jean, tights and leggins girl) but these looks amazing and definitely make a statement!
Last but not least, two more
Zara
purchases. Zara really impressed me, i'm sure the ones in Manchester aren't as good :( I literally squealed with excitement when i found this leather jacket, it feels so soft (like real leather apparently) and the best part is.. it was only £40! Cheaper than the ones in Topshop/Miss Selfridge which don't feel as nice and cost more. I also picked up this bag for £10, i'm unsure whether to keep this as i wanted a handbag as opposed to a shoulder bag. But i do like this as it's pretty big.
So yes, that is everything i bought. I wouldn't say it was a lot but it's not exactly little either ahaa (and i did by gifts too!) I don't know, shopping wise i loved the shops we don't get in Manchester like
Monki
,
Bershka
,
Liberty
. I weren't that impressed with though
Forever 21
unfortunately.
What do you think of shopping in London? And what are your favourite shops (i like being nosey)?