Today i have an exciting launch to tell you all about! Mallzee is a new, innovative way to shop online - taking shopping to a whole new level!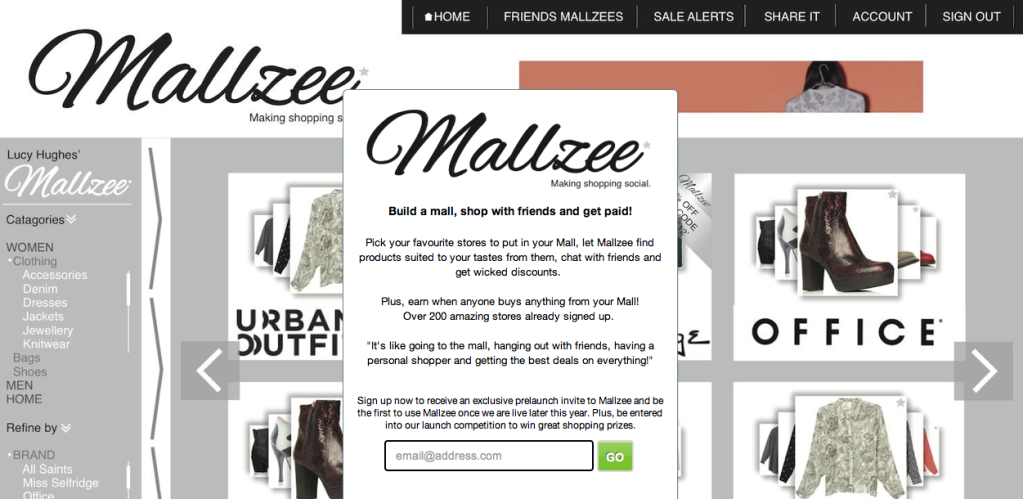 Mallzee is about adding a social aspect to shopping online. As a user you can create your own personalised shopping mall, by picking your own favourite brads and stores from a wide range of brand. From this information Mallzee's fancy software will find products to match your personal style and showcase them in your Mallzee! Sounds fun right?
You can invite friends to 'visit' your Mallzee and discuss product choices and star products you think their friends will love through the chat function and purchase from the mall with great discounts. You can also earn money whenever anyone purchases something from your Mallzee - as you're the owner ;) Mallzee already have over 200 brands signed up, including; Urban Outfitters, New Look, Feel Unique and St. Tropez to name a few, so you have lots of great brands to chose from!
Malzee haven't launched yet (it should be launched by the end of 2012 - exciting!) So, register on their website (

Mallzee.com

) now for a launch invite

and if you spread the word on Facebook or Twitter you will also be entered to win a prize of £100/$155 of shopping vouchers and some other goodies. What's not to love?!