I have a highlighting product to share with you today. I mentioned in
this
post that having oily skin makes it really hard to have dewy, glowing looking skin as you can end up looking a bit greasy. But using a liquid highlighter like this one works out pretty well as it adds a shine but lasts on the skin.
I bought the Skin Illuminator from No7 in shade 'Peach' - £11.00 available from
Boots
. Although, i got mine for £6.00 as i used one of the £5.00 No7 vouchers you sometimes get in Boots! So it works out really affordable and good value for money when using the voucher.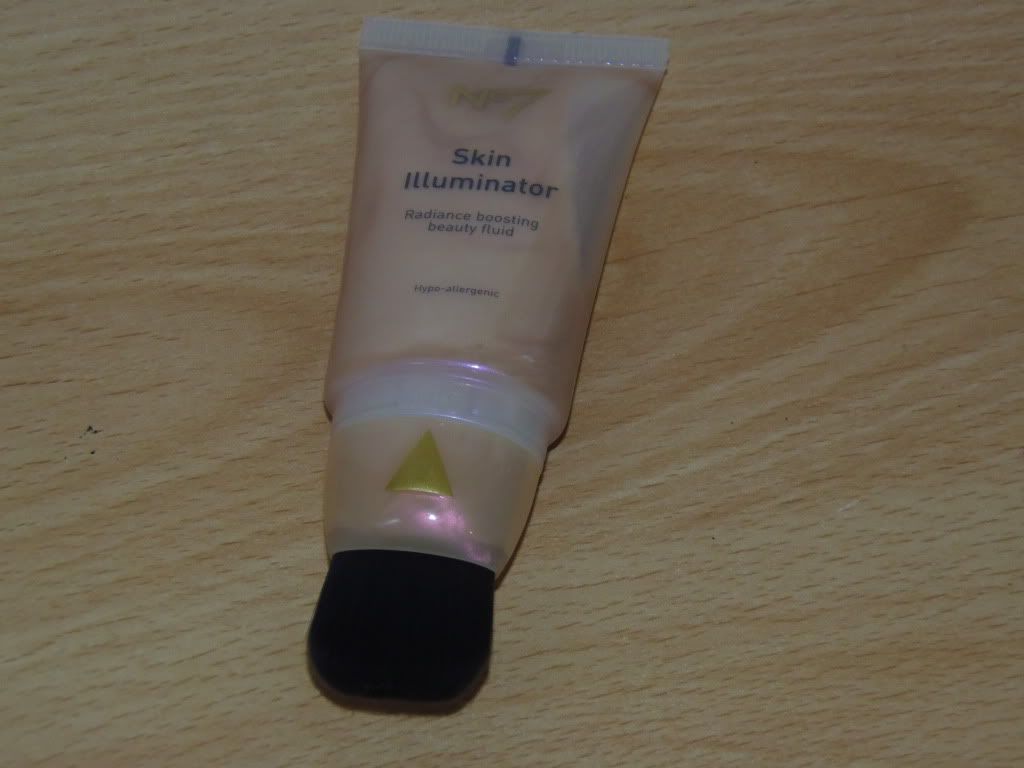 As you can see the product comes with a built in brush at the bottom. You squeeze the top and it comes out through the brush. You can either brush the liquid onto your face or use your fingers to apply it. I prefer to squeeze the product out of the brush using my fingers then, apply to the face as the brush can get a bit yucky and sticky after a few uses. But like the box says, to clean the brushyou just wipe it with a tissue/wipe.
I went for the shade 'Peach' as it's the more golden shade out of the two available. Obviously, it's up to you whether you get the golden or pink highlighter - both are lovely, just different tones!
On the skin, the highlighter is an ice golden shade which is quite sheer but contains shimmer to give you that glow. The shimmer isn't gritty or in your face but is infused into the liquid to add a subtle glow.

Because it's a liquid highlighter it can be used in different ways: mixed in with foundation/moisturiser to add an allover glow or used like a traditional highlight - applied and blended to the 'high' points of the face (top of cheekbones, bridge of nose, centre of forehead and cupids bow).

As you can tell, i love this product! It's perfect for summer as helps give you that healthy glow we all wish for but it's also perfect to brighten up a rainy day or to add a sexy glowfor a night out - you can definitely get your use out of it! I prefer to mix it with a matte foundation, because i have oily skin dewy foundations don't tend to last very well (i look greasy). So, i add this to a long lasting, matte foundation to give my skin a glow without compromising on longevity.

Have you tried this product or anything similar? What are your favourite highlighting products? I'd love to try some more!