Hello! Thought i'd show you some of the samples i've got recently and let you know what i think - because that's what i do best ;) There is two Lush samples, which the lovely Jayne gave us at the event because we really wanted to try these products. I got a sample of the new YSL Le Teint Touche Eclat foundation because i couldn't not try it out! I also ordered an Inika Mineral Foundation sample off
Cute Cosmetics
for £1.99 so i could try it and see if i liked it before forking out for the full size.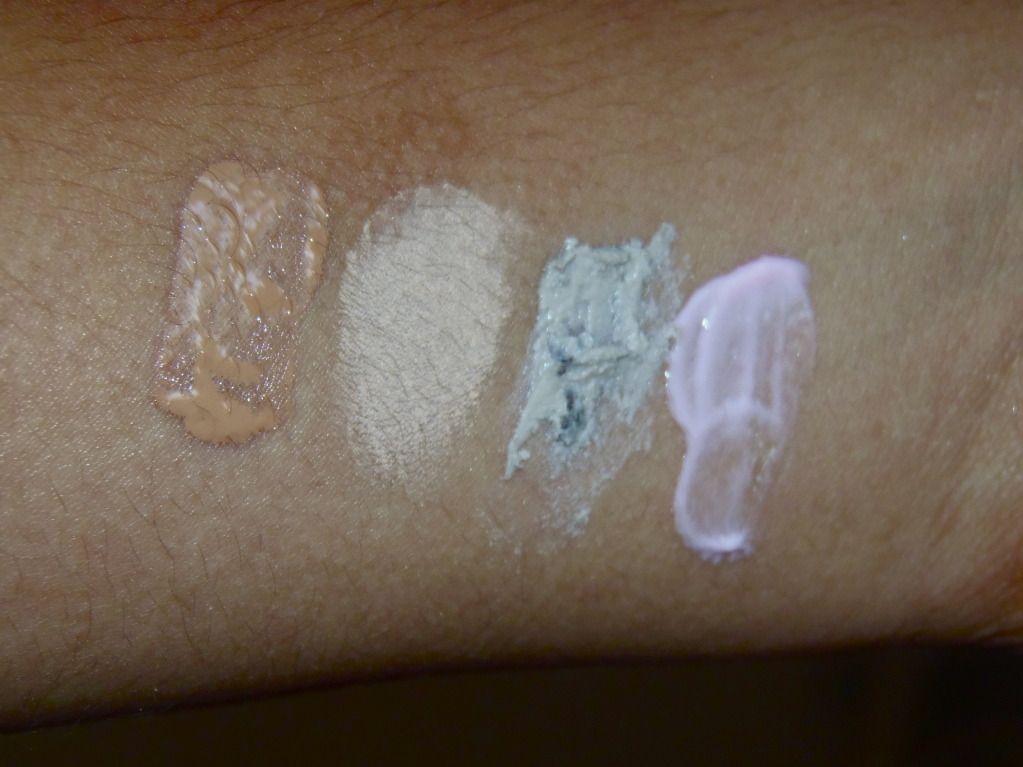 l-r: YSL Foundation- BR60 Inika Mineral Foundation - Trust Lush Catastrophe Cosmetic face mask Lush Fairtrade foot lotion.
YSL Le Teint Touch Eclat Foundation -
I have used this about 3 times and there is still a load left - so it's a good size - go get yours!! I was matched to shade BR60 which is actually pink toned yet i am not pink toned atall? If i was to get this foundation i'd definitely see what the yellow toned shade looked like. Although, this does look okay and the shade is actually a pretty good match i just don't love it. It does a brilliant job at brightening the skin, making you look luminous and glowy whilst providing medium coverage (enough to cover most imperfections and even the skin tone). I have really oily skin and unfortunately i find this melts of my skin and leaves me with no foundation after about 4 hours. It's such a shame, i wanted to love it but it doesn't last long atall. It'll be great for dry/normal skin though.
Will i purchase full size? No.
Inika Mineral Foundation
- I bought this sample as i had planned to just buy it in London but thought it was obviously best to try it before buying! I was looking for a mineral foundation as powder lasts longer on my oily skin but, i still wanted medium coverage that looked natural and less matte than liquid foundations. This foundation takes quite a few layers to build up to a medium coverage and at first looks very matte and dull. At first i really hated this so didn't buy the full size (i got the Laura Mercier one instead) but, now i have found the perfect way to use it. It works far better applied over a thin layer of liquid foundation to set it and add a bit more coverage. When the powder settles in it looks far more natural and less matte and lasts pretty well (5/6hours) on the skin!
Will i purchase full size? Maybe in the future.
Lush Catastrophe Cosmetic Fresh Face Mask -
I've been dying to try this for a long while as i've heard it's good for battling breakouts. The mask has quite a thick consistency making it hard to spread so i just applied it onto my problem area's (any spots/t-zone). It doesn't take long to dry really about 10minutes before it starts to flake off. It comes off really, really easily with warm water which is definitely a positive in my eyes (who wants hassle?!). In terms of doing what it says on the tin: the first time i use it i didn't see any differences, i was so dissapointed. But, i have used it a few more times since on some breakouts of my forehead (angry, painful, under the skin spots) and it has really helped to get rid of them. I applied it directly on the spot, rinsed off then when i woke up in the morning it had literally halved in size and was less painful. Amazing.
Will i purchase full size? Yes! Soon hopefully.
Lush Fairtrade Foot Lotion -
First of all the scent of this is just bloody amazing (peppermint!) Can't stop sniffing it. The scent is strong but it isn't too overpowering or in your face. The pink coloured lotion is pretty nice too. The lotion is very lightweight - not thick or too creamy so you slip when you try and walk yet it's very moisturising. I did the whole 'socks and moisturiser' thing with this and it left my feet feeling very soft and any dry skin feeling less rough after one use. It is a really effective foot lotion however i don't think you
need
this unless you can't stand thick creams that make feet slippery. Its really good though and absorbs fast so, if you're looking specifically for a foot lotion i definitely recommend this!
Will i purchase full size? I might in the future, not at the moment though, regular moisturiser will do for the time being!
Have you tried any of these products? Any you think you'll buy the full version of?