Hello! The time has come and i'm finally jetting off on holiday tomorrow! I'm not flying until 11.30pm at night and i know the whole day will absolutely drag. But, i can't wait to just get away from everything for one week and relax in the sun (and do lots of shopping of course).
Makeup wise, i don't really wear it that much on my holiday! Only at nights and i end up giving up by the end of the week hahaa. It probably looks like i'm taking quite a lot of stuff but, my skin colour changes so much - i tan so easily. So at the start of the holiday i'll be pretty pale (on my face) and by the end it'll be like 5 shades darker. So a variety of shades is needed because a ghost face just isn't attractive!
All my makeup is stored in this cute little MAC makeup case from the Hello Kitty collection.

I'm trying to keep brushes to a minimal. My Real Techniques Buffing Brush is perfect for everything base wise - foundation, powder, concealer. And the Contour Brush works for bronzer and blusher and even highlighter. For eyeshadow i just have the basics an eyeshadow brush and pencil brush both from MAC, a Muji Angled Brush and a Sigma Tapered Blending brush.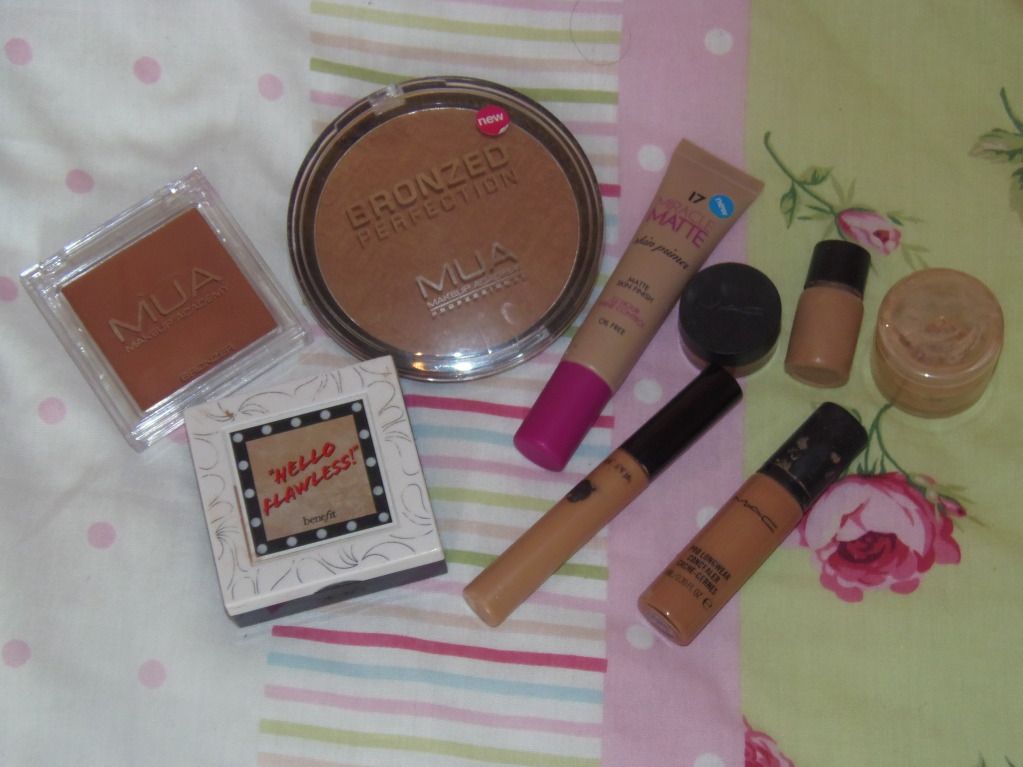 For foundation i am taking three in sample size containers as i won't need a full bottle of foundation and this way i can take a few different ones. I have my
Stila Tinted Moisturiser in Medium 03
which is my 'now colour',
MAC MatchMaster foundation in Shade 6.0
as it's slightly to dark for my 'in-between colour' and
Revlon Colorstay foundation in 330 Natural Tan
as my darkest colour. I'm taking two shades of concealer - my
Collection 2000 Lasting Perfection concealer in Medium
for my paler nights and
MAC's Pro Longwear Concealer in NW35
which is was too dark and only looks right when i'm tanned.
Benefit's Hello Flawess powder in Hazelnut
which is also slightly too dark. And two MUA bronzers, the new
Bronzed Perfection
and the original bronzer in
Shade 2
.
Just in case i'm in the mood for eyeshadow i'm taking my
MAC 15 Palette
and my
MAC 'Groundwork' Paint Pot
as a base! Being multi functional i'm taking my
Avon Black & Brown Kajal Stick
so i can choose whichever eyeliner colour i like and the brown side is perfect for my brows. The
Une Skin-glow Pencil in 2.0
really brightens up the eyes and can be used as highlighter. And last but not least, a must for me, mascara. I'm taking my
N.Y.C Waterproof Mascara
so i
can
wear it in the daytime if i want but at least at night the staying power will be even better.
I've tried to keep lipsticks to a minimum (which was very, very hard!) but, i can't be bothered with topping up on holiday! So i chose my two favourite lip colours
NYX 'Tea Rose
' and
MAC's 'Twig'
. Then two colourful lipsticks which are nice, hydrating and easy to wear -
Revlon Lip Butter in 'Tutti Frutti
' and a
MAC Lip balm in 'Popster' Hello Kitty collection
So, this is all i'm taking, i don't think i need anymore to be honest. I think i've done pretty well with my multi-tasking, versatile products. But who knows, i might chuck some more in my hand luggage or treat myself out there ;)
Do you guys think i've done a good job at keeping things to a minimum? What are your holiday makeup essentials?!