Hello! I have some wonderful creams to show you today by
Alison Claire
. Alison Claire offers completely natural beauty products available to order online. All products are supposed to be skin friendly, irritant free and made of completely natural ingredients so very good for sensitive skin types! There are a wide range of products available, haircare, body creams, washes etc. Everything you could need basically.
In the package came two little samples of the hand cream and foot cream - small enough to my taken in your handbag or through airport security (like i did) but big enough to last quite a while (about 2 weeks). The lovely, glossy glass jars looked so gorgeous on my dressing table. I also received a booklet with the samples, like a little catalogue, telling me all the products they sold - prices and sizes too. I thought this was a really nice touch and really enjoyed having a read through finding out more about the brand and all the other products they offered!
The Mango & Coconut Hand Cream
as you can tell by the name was scented with a mix of mango which is quite strong and fruity and coconut which is more musky and sublte. I was unsure at first how these two mixed would go (being my favourite scents) but together they blend together beautifully. Leaving your hands smelling subtly, tropical. The cream was moisturising without being greasy or slippery and absorbed really easily. Great for on the go. I took this with me on holiday and found it to be great relief for my dry hands around the pool and on the plane. I genuinely recommend this as a lovely, relatively cheap, natural hand cream.
Peppermint & Witch Hazel Foot Cream
again another wonderful product. It smelt of your typical peppermint foot cream which although was strong it wasn't over powering which i personally prefer. There's not too much to say about this - it's a really nice foot cream that was moisturising and really hydrated my feet without being thick. I didn't get that slippery feet feeling like you can get with some foot creams. So overall a highly hydrating, strong smelling treat for your feet!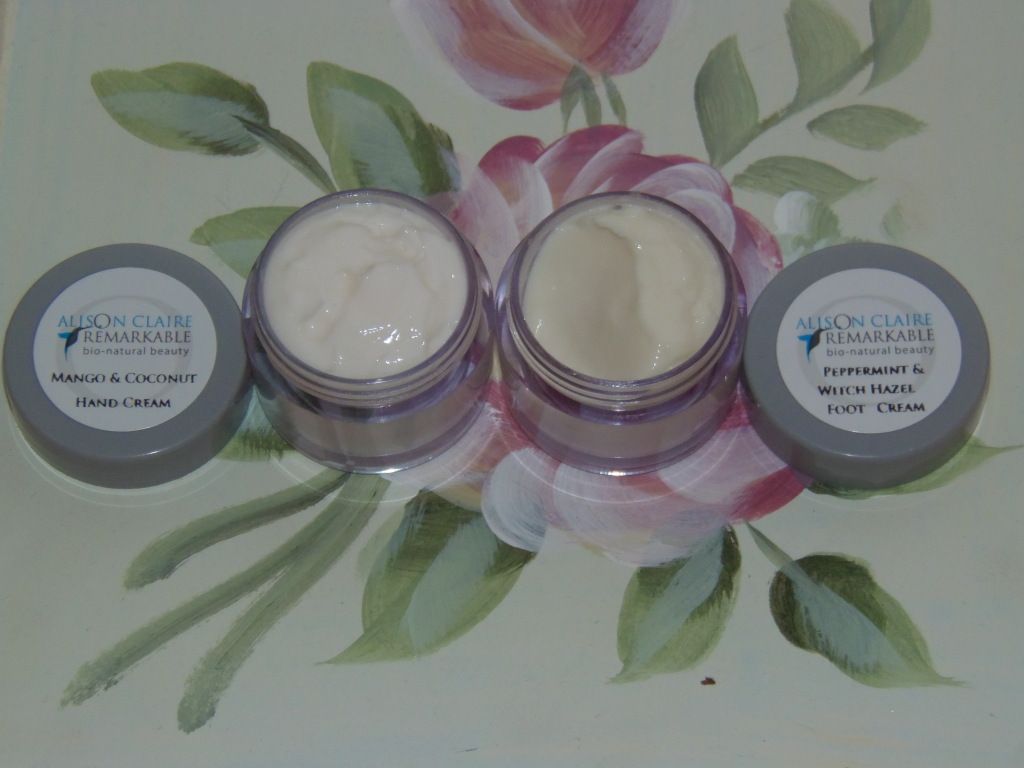 Both creams had an almost butter feeling to them. They seemed to me like a mix of lotion/butter. This was so nice as it meant they were both really nourishing without being too heavy for everyday use! Also you only needed a tiny amount to moisturise the skin so a little goes a long, long way which is always a bonus!
I've loved this experience with natural body care. The smells were both fab and very appropriate for the part of body. I'm really interested to try the body butters, i bet they are lurrrrvly.
Have you tried anything from Alison Claire? If not, what would you like to try?