Hello! More empties to show you today, it's been quite a while since my last one but i don't go through that fast really (as much as i try to). I really wanted to use up as much as i could before i went on holiday so i could get lots of new beauty products there and here is what i used up..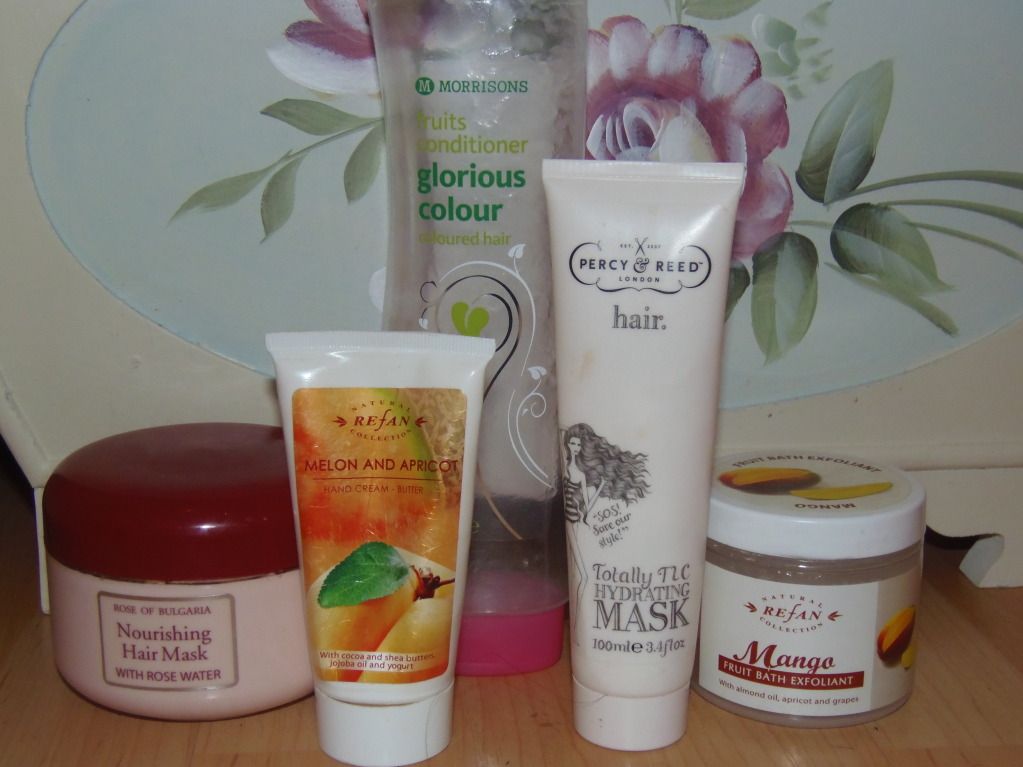 Rose of Bulgaria Nourishing Hair Mask - Absolutely adore this! It smells lovely (like roses) and really hydrates my hair leaving it feeling smooth, tangle free and soft. I use this in-between shampoo and conditioner every single time i wash my hair as it really makes such a difference!
Would i repurchase? Yes, i just bought a new one from my holiday in Bulgaria.
Refan Melon & Apricot Hand Cream - What can i say, i can't praise this hand cream enough. It's my holy grail, favourite hand cream ever! It's like a butter so it's thick and so moisturising but isn't greasy. LOVE IT!
Would i repurchase? Yes! I have just bought two more on my holiday to keep me going.
Morrisons Glorious Colour Conditioner - Bit of a boring one but i absolutely adore it so i needed to share. It's such a cheap conditoner but works so amzing well to keep hair soft, shiny and hydrated. I can instantly feel the difference in my hair after using this. Hello glossy locks!
Would i repurchase? Yes i will keep on purchasing it.
Percy & Reed Totally TLC Hydrating Mask - Aah i think most of us picked this up when it came free with Glamour a few months ago. I've only just got round to using it as i've been using the other hair mask above. I like this product, it leaves hair soft, smooth and tangle free but i find you need to use lots of product for it to really work so it empties really fast.
Will i repurchase? No, it's not worth the price-tag as it goes so fast and my Rose of Bulgaria face mask is cheaper and works better.
Refan Mango Exfoliant - Love this. It smells like heaven in a tub and does a great job at exfoliating the skin making me feel as smooth as a babies bottom. It's not too harsh but does the job!
Would i repurchase? Yes i have just bought another on holiday in a different smell :)
Nivea Soft Cream - I used to really love this moisturiser and have been through a few tubs. But, i'm just not loving it anymore. I find it way to thick for my face and prefer to use other moisturisers that smell nice on my body. My boyfriend really likes this though for himself. So a good product for a couple to share ;)
Would i repurchase? No, i prefer other moisturisers!
Lacura Aqua-Complete Serum - I have done a review on this here. Basically i really enjoy this moisturiser and does the job, smells lovely and is really cheap. It's great for the face and you only need the tiniest bit. I can't get the last of the product out the pump though!
Would i repurchase? Yes, i already have. I have a new bottle ready and waiting.
Asda Skin System Vitamin E Toner - I don't like this product i think it definitely breaks me out. It's way to harsh for everyday use (although is good for when you want a deep clean) and my skin isn't sensitive in the slightest so it must be harsh!
Will i repurchase? No, never.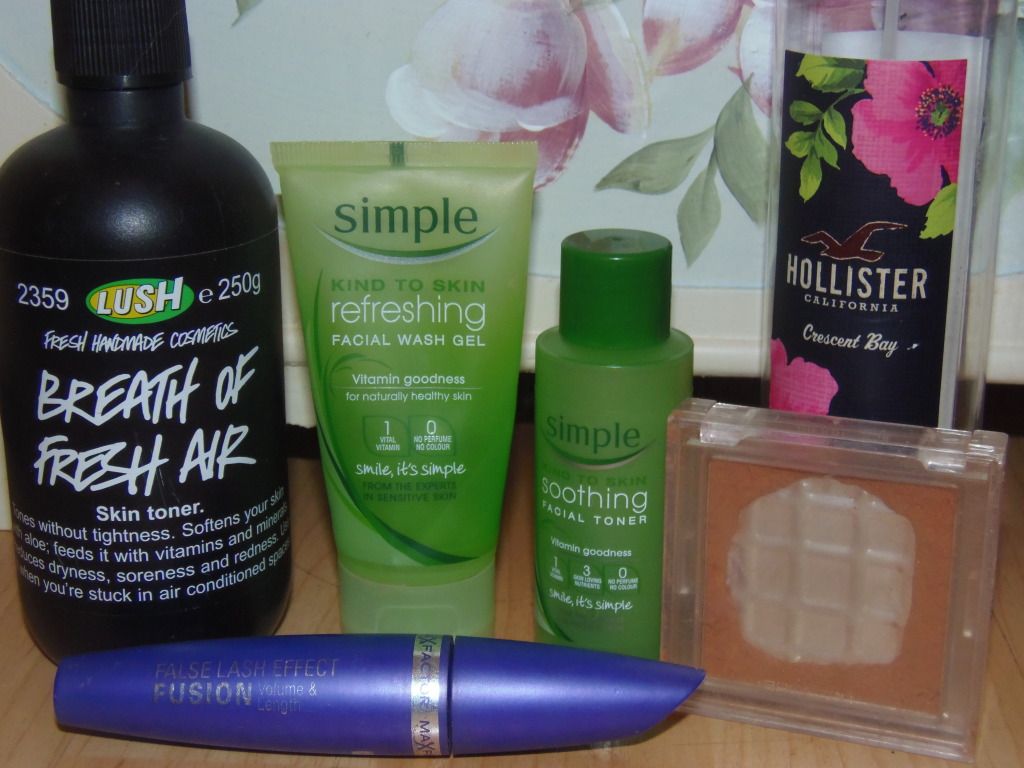 Lush Breath of Fresh Air Toner - Finally used the remainder of this up. I adore this toner so much, it does a fab job of making sure the skin is really clean without being too harsh and stripping the skin. It smells nice, the spray bottle is great and it's great for toning/refreshing!
Will i repurchase? Probably at somepoint in the future. Trying others for now.
Simple Refreshing Face Wash & Simple Soothing Toner - These two products are like pea's in a pod. They work fab together and giving the skin a really good clean, keeping dirt at bay and preventing spots/blackheads. Great combo and they are also very gentle which is good!
Will i repurchase? I have already got the full size bottles, yes.
MUA Bronzer 'Shade 1' - I cheated slightly on this, it's not completely gone, oops. But i'll only get 2/3 more uses out of it. It's a really good bronzer for £1. It's quite orange and contains a bit of shimmer but that's great for giving the skin a lovely sun-kissed glow. It takes a bit of building up on my skin-tone but nevertheless it lasts a long time on the skin and looks lovely.
Will i repurchase? No, i prefer their new Bronzed Perfection or the 'Shade 3'.
Hollister Crescent Bay Body Mist - I love body mists for summer and this is no exeption. This smells so delicious really bright, fruity and fresh. So sweet. Unfortunately most of this leaked in my box so most of it was gone :( But i loved what i had left of it.
Will i repurchase? Yes, it smells so gorgeous and summery!
MaxFactor False Lash Effect Fusion - Let's keep this short: This is one of my favourite mascara's ever, it adds both length and volume making the lashes look amazing! It lasts all day, no smudging and has a nice size brush so you can get all the little corners. Perfect.
Will i repurchase? Yes when i've used all the others lingering in my stash!
Wow, long post i know! Thanks for sticking with me.
Have you used any of these products? What do you think?