Hello all! Hope you're having a fab new year. Any New Years Resolutions? Mine, as usual, have gone to pot (don't know why i bother!). I'm just going to focus on being happy and passing these bloody exams.
I was so undecided on whether to do a 2012 Favourites, i love reading them myself but, i'm not one to constantly use something. I swap and change my products every two seconds so trying to find favourites for the majority of a year was too hard. So here a just a few things i have been loving (some for longer than others)..

Makeup
MAC Eyeshadow Palette
- i first started this last christmas and continued building it up in 2012 until i finally finished it! I absolutely adore this little collection of eyeshadows, there is a wide range of colours (all of which i love). I love grabbing it and having lots of lovely, good quality eyeshadows all in one place. And despite there being 15 eyeshadows it isn't too bad for travelling.
Real Techniques Brushes
- I have only pictured the Stippling Brush here but i also have the Core Collection which i absolutely adore. I rarely use any other brushes since i got these. Affordable, amazing quality, easy to wash, easy to use, the list goes on..
Rimmel Eyebrow Pencil
- this has been the
only
thing i have used on my brows throughout 2012, i think i have found a new favourite now but nevertheless this is the perfect colour, easy to carry around and easy to apply. I simply use it in little stoke motions to fill in my brows and they instantly look miles better. It lasts all day too.
Nars 'Casino' Bronzer
- This must be the darkest bronzer i've ever used, which personally is great for my tanned skin as it makes the most perfect contour. I regularly reach for this despite having other bronzers i cant help myself. It just does everything it's supposed to do.
MAC Mineralise Skinfinish Powder
- A favourite for years. I did neglect this for quite a while but i can't help but love the way it sets my makeup without adding lots of coverage or looking cakey. It simply mattes the skin whilst still looking very natural. You could apply lots of this without it going cakey so i usually always have this in my handbag for touch ups.
Avon SuperShock Eyeliner
- i love the SuperShock mascara for Avon so i obviously had to try this, it has the most amazing pigmentation (i have never used an eyeliner so black!) This is perfect for a night out and smokey eyes. Its so soft and creamy its perfect for smudging.
Beauty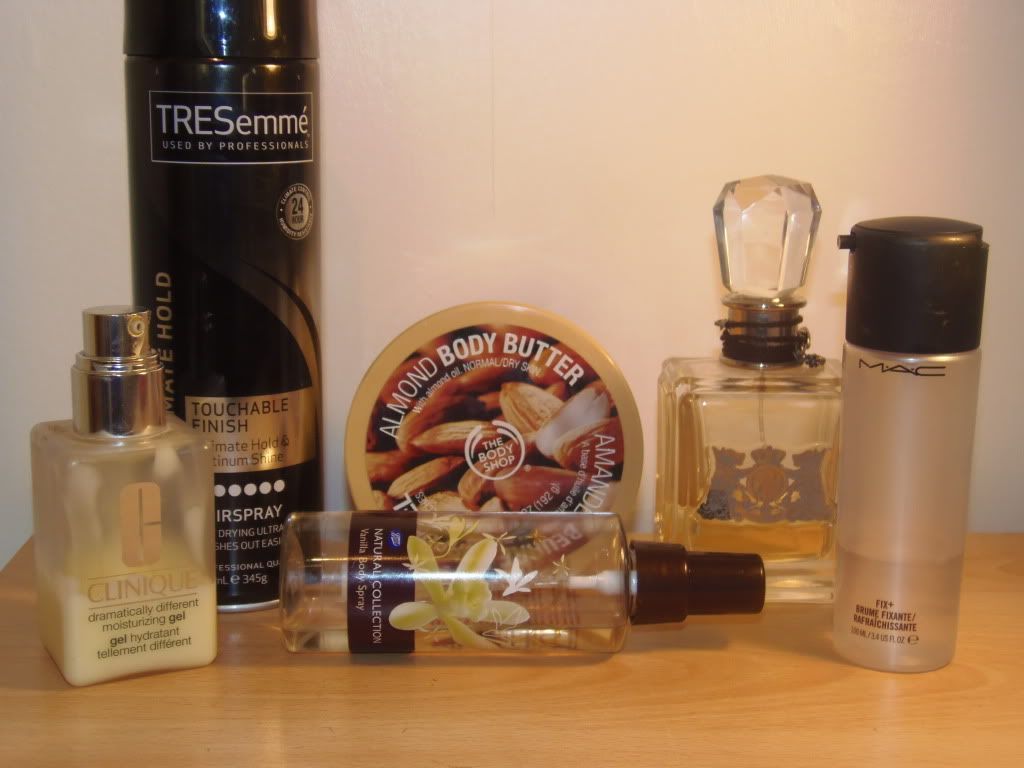 Tresemme Hairspray
- This is literally all i have used for years. Definitely a firm favourite for me. It sets the hair without leaving my hair feeling rock hard - love it.
The Body Shop Body Butter
- i've pictured the Almond one here (probably my absolute favourite ever) but i also adore the Coconut and Mango ones. They're so luxurious and creamy, such a delight to put on. I find them amazing for dry skin without being too sticky and the scent is so strong to leave me feeling fab. I apply these every single day.
Juicy Couture Perfume
- The scent of 2012 for me and i've had it once before. I find it's such a lovely, strong but not overpowering scent. It's not very floral or fruity like the ones i usually go for it's a bit more mature and i love giving myself a good few spritz of this before i go anywhere.
Clinique Dramatically Different Moisturising Gel
- If i had to recommend any moisturiser for combination/oily skin, this would be it. Its so light and cooling yet gives enough moisture without being too much. Perfect, enough said.
Natural Collection Body Spray
- Definitely a little bargain at £2 and definitely something i have been reaching for a lot last year. They're perfect on a day-to-day basis for making you smell gorgeous in a subtle way.
MAC Fix+
- Not something i use everyday but definitely comes in very handy for nights out or more dramatic makeup looks. I use this on my eyeshadow brush to make my eyeshadows appear more pigmented and bright, it also makes the shimmer/glitter stand out more. I also spray it onto my face when i've done all my makeup to help it look less full/cakey and more natural.
Well, that was a pretty long post. Just a few of the things i grab for the most and definitely all things that i have been reaching for regularly for quite a long time.
What are you're favourite items that you reach for often?